Nursery Parental Involvement – POLICIES OF THE MONTH
TAKEN FROM THE SEPTEMBER NURSERY NEWSLETTER:
In nursery, we are looking at refreshing and updating our policies/information booklets.  These range from Child Protection to Healthy Eating, and Management of Medication to Multi-cultural and Anti-racist Guidelines.
In order to refresh these policies and to make it meaningful to the pupils and you, the parents, we would like to consult with you.
As of mid-September 2016, you will see a new display outside the nursery – "Policies of the Month."  There will be a small table displaying copies of the current policies, which we are focusing on.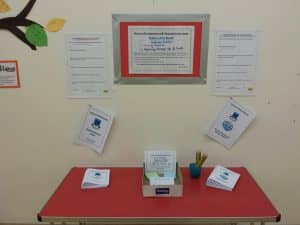 There will also be a poster, comment slips and post-it notes, asking you to scribble up ideas about what would be useful for you in the policy.
What are we currently doing that is good?
What needs adapted/improved?
What would you like to know?
What is most important?
How can we involve you more? 
What ideas do you have?
To give you time to read and think, do feel free to take a copy of the current policies home for returning later.  If you do not feel comfortable with writing up any comments, please see a member of our nursery team who will happily pass on ideas. 🙂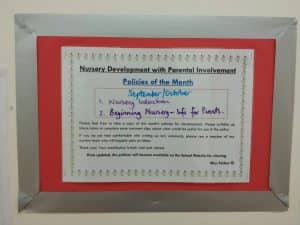 The first two policies we are aiming to refresh this month are:
Nursery Induction
Beginning Nursery – Information for Parents
Opportunities for being involved in updating policies for the primary school will be coming soon!