School Handbook & Policies
Thank you for visiting our page of School Policies.
We are involving children, parents and staff to evaluate and update our policies and practices.  Please do respond to surveys, questionnaires and/or feView Pageedback sheets so that your contributions can be valued and included.
We will post more policies up here as and when they are updated.
Many thanks for your continued support.
School Handbook:
Hanover Street School Handbook 2018-19 – PDF File
General Application and Induction Information:
Guide to Integrated Children and Family Services 2019-20
New Pupil & Parent Induction Booklet 2019-20 (updated due to change in May Day holiday)
P1 Induction Policy – June 2018
Education Scotland Inspections – Most Recent
https://education.gov.scot/inspection-reports/aberdeen-city/5239729
School Improvement Plans – Most Recent
HSS 19-20 SQUIP update (Standards and Quality Improvement Plan for 2019-20) – PDF File
School Improvement Plans – Previous
Standards and Quality Improvement Plan for 2017-18, Improvement Plan for 2018-19 – PDF FILE
HSS-SQUIP-16.17 (1) – PDF FILE
Standards & Quality Improvement Plan –  Hanover Street School 2015-16
Aberdeen City Council-Learning & Teaching Policy
P1 Transition/Induction Information for August 2019
Nursery-to-P1-transition-events-2019 – PDF File
Nursery-to-P1-transition-events-2019 – Word Document
P1 Induction Booklet 2019-20 – PDF File
P1 Induction Booklet 2019-20 (updated August 2019 due to change in May Day holiday)
Pl Induction Booklet – translatable link – HERE
P1 Induction Meeting Powerpoint – WEBSITE COPY
Child Protection,  Health & Wellbeing & Safety:
Aberdeen City Council Child-Protection-Corporate-Policy-and-Procedure November 2017 – Review November 2020
HSS Child Protection Policy Summary – August 2019 – Review August 2020
HSS Full Child Protection Policy & Guidelines – August 2019 – Review August 2020
HSS The 5 GIRFEC Questions February 2019 – portrait
HSS Updated Child Protection Notice – February 2019
Emergency Evacuation Procedure – April 2019 – Phone number removed for website
Anti-Bullying Policy – August 2019 – Review August 2020
Anti-Weapon Knife Crime Policy 14.9.17
Code of Practice for Jewellery in Physical Education 2018
Acceptable Use Policy for Computer & Internet
Management of Head Lice Prevention and Infection – January 2019 – Review January 2020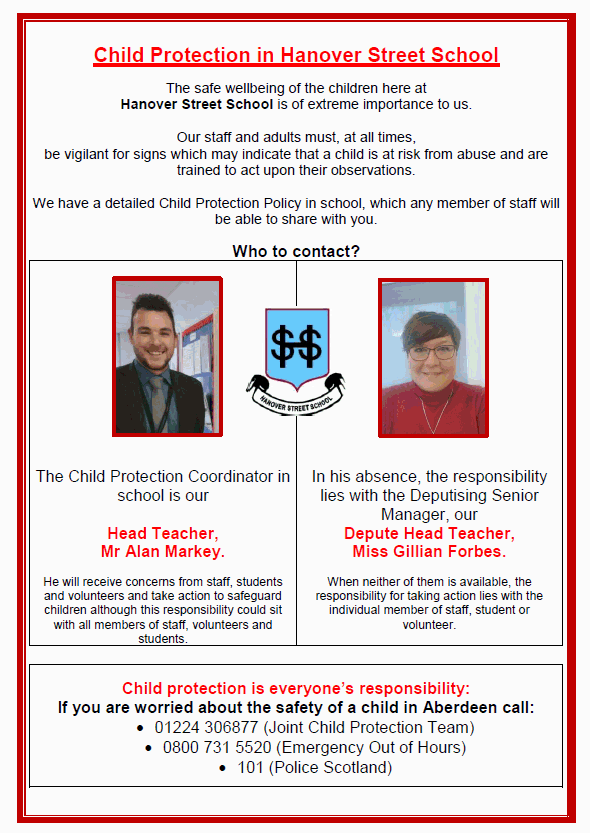 Relationships and Behaviour:
Positive Relationships & Behaviour (School) September 2019 – Review September 2020
RSHP Policy – November 2018 – Review October 2019
Adult Helper Policy – February 2019
Evaluation and Development:
Staff Supervision and PR&D Policy – February 2019
School Policy Updates Calendar:
Session 2019/20
Month

Policy/Procedure

(Review/Maintenance)

Policy/Procedure

(New Development)

Links to other policies/things to consider

Ongoing Developments/

Things to Finalise

August

Annual Updates/

Recap for new school session:

·       Induction Booklets

·       School Handbook

·       Child Protection

·       Data Protection

·       Missing Child Policy

·       Administration of Medication

·       Positive Relationship & Behaviour Policy

·       Anti-Bullying Policy

—
—

Outdoor area & Pupil friendly risk assessments

September

RSHP Policy

Supervision & PR&D

October

P1 Induction

Staff Induction

Nurture Statement

Additional Support Needs Statement

Parent, pupil and teacher feedback before October holidays

November

–

Healthy Eating & Snack Statement

Pupil and parent consultation?

December

First Aid Policy & Procedures

Curriculum Rationale

(to finalise)

Nurture Statement

January

Management of Head Lice Prevention and Infection

Play Statement

Gender equal play (Care Inspectorate)

Scotland's Play Charter

Continue to improve pupil and parental participation across all developments

February
Policy for adult volunteers
Parental Engagement Statement & Curriculum Workshops

March

School Motto

(Welcoming, friendly,

happy and safe)

Assessment, Recording and Reporting Calendar

SNSA

Moderation with ASG

Change in parents' nights

Open days, etc

WTA

April

Emergency Evacuation Procedures

Learning and Teaching Policy (to finalise)

(Visible Learning Links)

Business Continuity Plan

May

House System

June/July