School Handbook & Policies
Thank you for visiting our page of School Policies.
We are involving children, parents, staff and the wider school community to evaluate and update our policies and practices.
Please do respond to surveys, questionnaires and/or feedback sheets so that your contributions can be valued and included.
We will post more policies here, as and when they are updated.
Many thanks for your continued support.
School Handbook:
Hanover Street School Handbook 2019-20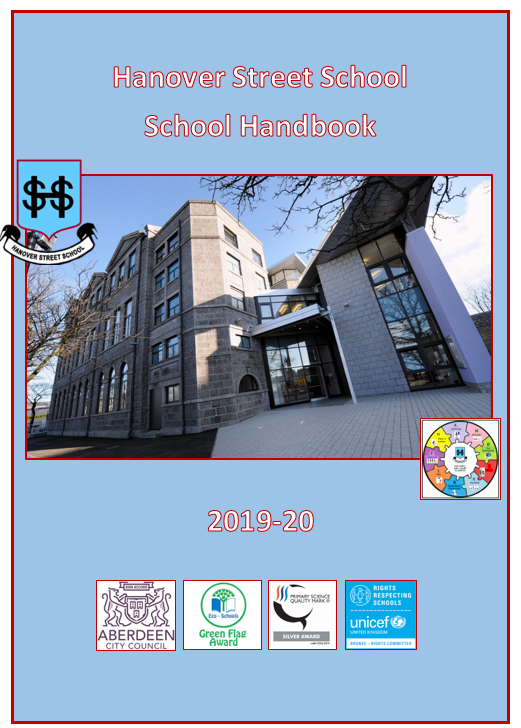 General Application and Induction Information:
Guide to Integrated Children and Family Services 2019-20
New Pupil & Parent Induction Booklet 2019-20 (updated due to change in May Day holiday)
P1 Induction Policy – June 2018
P1 Transition/Induction Information for August 2019
Nursery-to-P1-transition-events-2019 – PDF File
Nursery-to-P1-transition-events-2019 – Word Document
P1 Induction Booklet 2019-20 – PDF File
P1 Induction Booklet 2019-20 (updated August 2019 due to change in May Day holiday)
Pl Induction Booklet – translatable link – HERE
P1 Induction Meeting Powerpoint – WEBSITE COPY
Child Protection 
Aberdeen City Council Child-Protection-Corporate-Policy-and-Procedure November 2017 – Review November 2020
HSS Child Protection Policy Summary – August 2019 – Review August 2020
HSS Full Child Protection Policy & Guidelines – August 2019 – Review August 2020
HSS The 5 GIRFEC Questions February 2019 – portrait
HSS Updated Child Protection Notice – February 2019
Health & Wellbeing and Health & Safety:
Emergency Evacuation Procedure – April 2019 – Phone number removed for website
Anti-Bullying Policy – August 2019 – Review August 2020
Aberdeen City Council Anti-Weapon Policy -revised Feb 2019
Code of Practice for Jewellery in Physical Education 2018
Acceptable Use Policy for Computer & Internet
Management of Head Lice Prevention and Infection – January 2020 – Review January 2021
First Aid Policy – January 2020 – Review August 2020
Administration of Medication Policy – August 2019 – Review August 2020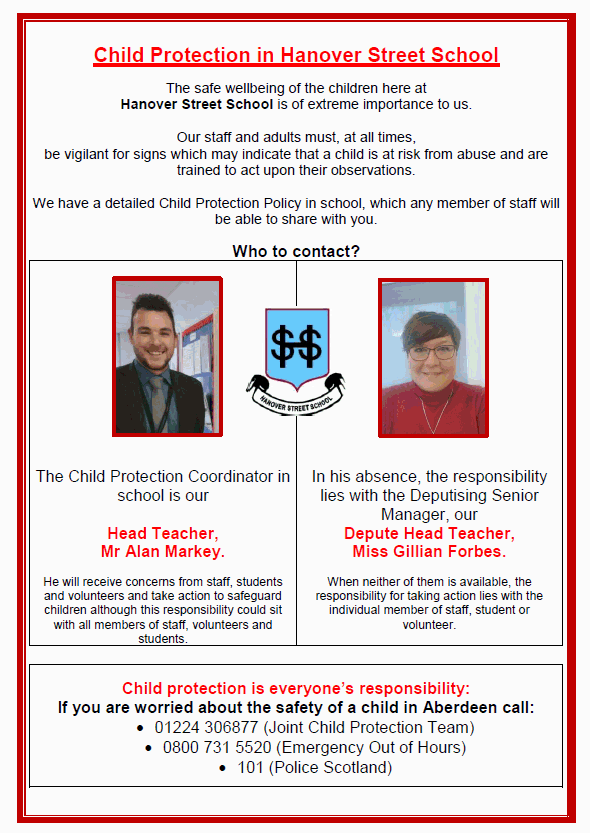 Relationships and Behaviour:
Positive Relationships & Behaviour (School) September 2019 – Review September 2020
RSHP Policy – October 2019 – Review October 2020
Adult Helper Policy – February 2019 – Review August 2020
Evaluation and Development:
Staff Supervision and PR&D Policy – September 2019 – Review September 2020