Darcey in Primary 7 has started a lunch time club to teach other pupils from Primary 4 to Primary 7 British Sign Language.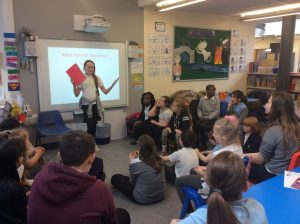 They had their first meeting on Tuesday the 14th of March and they had a great turn out with pupils from all 4 classes.
They spoke about the barriers that hearing impaired people can face and how learning even a little bit of British Sign Language can break down these barriers. Please click this video link to watch a community that learned sign language to communicate:
They learned how to say their name and practised simple classroom questions and the alphabet. Darcey learned BSL from a PSA at her old school and still learns through his YouTube channel.
Here is a copy of the Powerpoint Darcey used at the club so you can learn and practise at home!