Summer Reading Challenge, 2017
https://summerreadingchallenge.org.uk/src-schools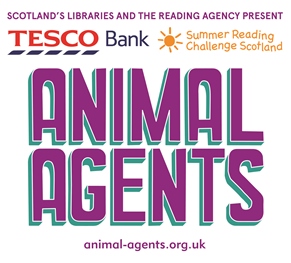 The Summer Reading Challenge and Schools
Libraries are great places for children to discover reading for pleasure and there is no better time to do this than during the long summer holidays.
The Summer Reading Challenge is designed for children between the ages of 4 and 11. It is completely free and last year over three quarters of a million children took part.
Every year the Challenge has a new theme. This year's Summer Reading Challenge is Animal Agents, illustrated by the UK's best-selling children's illustrator Tony Ross.
For 2017, there's something peculiar happening at the local library – and that's where the Animal Agents come in! It's a detective agency manned by all kinds of clever animals – furry, scaly and slippery – and these guys are out to crack the case with a little help from their friends.
As children read library books on the Summer Reading Challenge, they will receive a host of stickers, some with mysterious smells. By collecting the stickers on their collector folder, young readers will help the Animal Agents find out what's really been going on behind the scenes!
Animal Agents is a must for all eagle-eyed kids and will test their skills and ingenuity along the way. With the Agents on their side, solving these mysteries comes with a large helping of fun!
How does the Summer Reading Challenge work?
How do schools benefit?
The Challenge is run in public libraries, in the summer holidays, and is free for children to take part. By getting your pupils involved in the Summer Reading Challenge, your school can:
Enhance and support the school's reading initiatives and involve parents and the wider community.
Continue to support pupils' learning during the holidays in a fun, creative and child-directed way.
Help to prevent the trend for children's reading skills to dip over the holidays.
Encourage pupils and families to join their library, to browse, choose and borrow books for free and to enjoy a free, safe, community learning space.
Make great links with your local library staff who can support you in your work with families and reading.
Ensure your pupils return in the autumn term ready for a great start to the new academic year.
Provide further opportunities in the holidays for activities that link to the reading, comprehension and spoken language recommendations in the national curricula in England, Scotland and Wales and to the recommendations in the Department for Education's report Reading; the next steps, (March 2015, DfE)
Provide evidence to 

OFSTED

 of your school's involvement in community initiatives and social and cultural activities
Support public libraries
It's free, local and inclusive
The Summer Reading Challenge is inclusive of all children and families and all stages of reading development. Children choose whatever they want to borrow. There are no levels.
Children read six or more books of their choice: fiction, non-fiction, joke books, picture books; any books they like as long as they are borrowed from the library. They talk about them in the library with a member of staff or young volunteer and receive rewards along the way and a medal and/or certificate when they complete the Challenge.
There is also a mini-challenge for pre-school children so that the whole family can take part.
Family information leaflets are available in a range of community languages and many items are available in large print. Ask your local library staff.
Libraries stock accessible texts, audio books, dual – language books, picture books and graphic novels.
Key dates
Most libraries in Scotland will start the Challenge on Saturday 17 June 2017.
Most libraries in England and Wales will start the Challenge on Saturday 15 July 2017.
Regional variations will apply. Your local library will be able to confirm when the Challenge will begin in your area.
There is not an official end date for the Challenge. Each library authority will set their own finish date. Please check with your local library to find out when the Challenge will finish in your area.
Volunteering
Librarians and teachers in secondary schools play an important role in encouraging pupils to volunteer as Reading Hackers to help library staff run the Challenge in public libraries over the summer.
Last year, almost 8,000 young people gave their time in libraries across the country during the summer holidays, and helped over three quarters of a million children read and share books.
Chatterbooks
We also co-ordinate a national network of book groups for children called Chatterbooks. Visit chatterbooks.org.uk for more information and free resources to set up a book group in your school.