A Special Thanks from Primary 5
Primary 5 would like to thank everyone who helped us plan and run our night! 
Thank you to Xenia and Margaret from Aberdeen Central Library for coming along and showing the families what the library has to offer. Our infant classes enjoy their trips to the library with the school and we hope to get more classes visiting more regularly. Their R2-D2 was a hit with children and adults!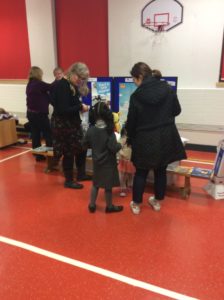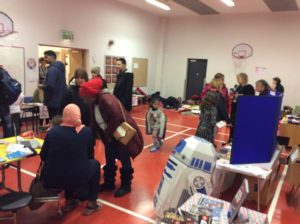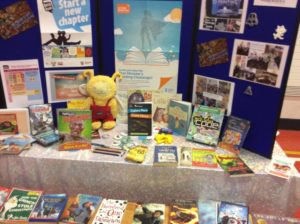 Thanks to the staff at Aberdeen's Curriculum Resource and Information Services (CRIS) for lending us such a fantastic range of books that have been turned into films to use at all of our activities. They also provided lots of bilingual books for our 'Around the World' activity where people had to match the book to the right country's flag and language. They gave us books in Spanish, Romanian, Lithuanian, Polish, Mandarin, Urdu, Farsi, Korean, Japanese, Russian, Arabic and more!
Our Around the World station was also resourced with thanks to one of our EAL teachers, Miss McGowan and Aberdeen City EAL Service. We used the bilingual books they let us borrow on this activity and in our Chill Out Zone, where children and families could relax and enjoy a book with a tasty bowl of popcorn. We are so lucky at Hanover Street School to have pupils and families who speak a huge range of languages! Our EAL teachers- Miss McGowan and Miss Pudney – are a very important part of our school, always encouraging pupils to celebrate the diversity of languages and cultures we have.