An EGGxtra Special Surprise for Primary 5! 🥚❄️
After break today, Primary 5 were very confused when Mr Markey announced that the janitor had discovered a strange and unusual object in our snowy playground.
He said that it had Primary 5 written on it so we went downstairs to investigate and see if anyone could explain what it was.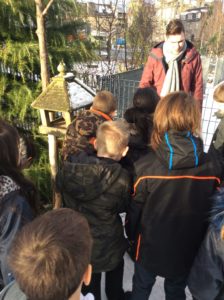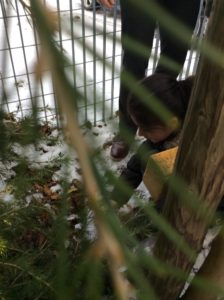 Bravely, Fatima stepped forward for a closer look. Shocked by her discovery, she announced to the class, "It's an egg!" She carefully lifted the protective glass case and picked up the silver egg for all to see.
We also found a note with the egg that read:
To whoever discovers this egg of ice,
Ensure you follow our important advice,
First you must alert Primary 5,
For they must keep this egg alive.
It may look tough and it may look strong,
But if touched too much things could go wrong.
Keep it somewhere away from human hands,
I hope these instructions you understand,
When you're in school keep it in your sight,
And make sure it's warm when you leave at night.
We are too busy to watch over it at this time of year,
And leaving it alone was our greatest fear.
We do not know how this will end,
But we trust you completely, our human friends.
Jagoda read the note out to the class and Declan and Jayden quickly spotted that it was written in rhymes. This made them certain this egg was delivered by North Pole elves (everyone knows they always speak in rhyme, don't they?) and sure enough, it was signed by Snozzletrump.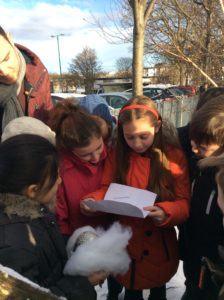 We have been reading The Christmasaurus by Tom Fletcher and we are loving the soundtrack that goes alongside it. We really enjoy getting to a prompt that tells us we get to listen to a new song.
Some of us think there may be a Christmasaurus frozen inside waiting to warm up and hatch, what do you think?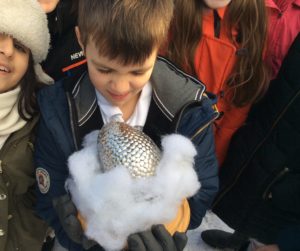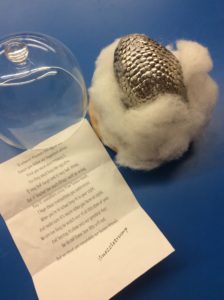 Primary 5 are taking the responsibility very seriously, and have found an eggcellent spot under our class Christmas tree to keep it safe. 
What a cracking day in P5!