Playtime with Pantosaurus! – KEEPING CHILDREN SAFE WITH FREE DOWNLOADABLE APP
https://www.nspcc.org.uk/preventing-abuse/keeping-children-safe/underwear-rule/

A national campaign to help keep young children safe from sexual abuse has been launched.
The NSPCC has released a new mobile phone game and a prime-time TV ad as part of its It's Time to Talk PANTS campaign.
The initiative teaches children:
Privates are private
Always remember your body belongs to you
No means no
Talk about secrets that upset you and
Speak up – someone can help.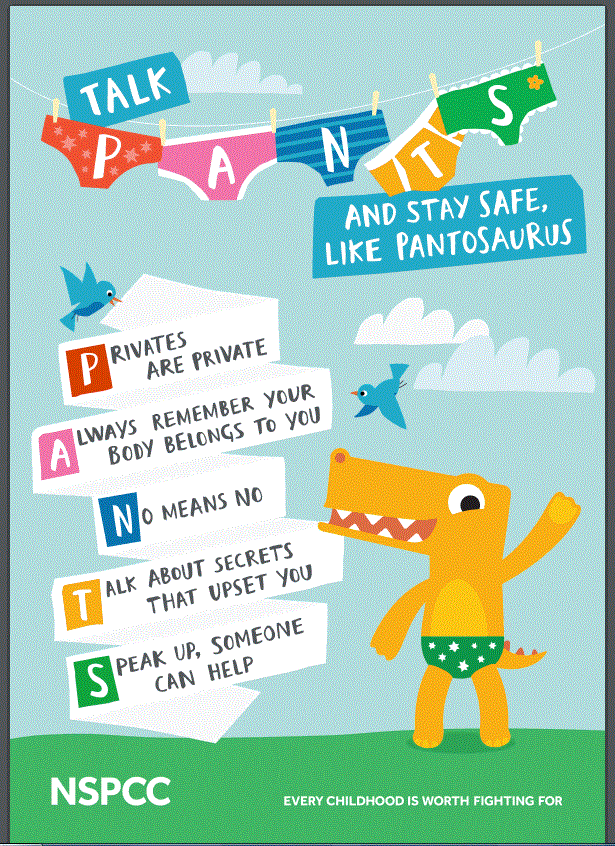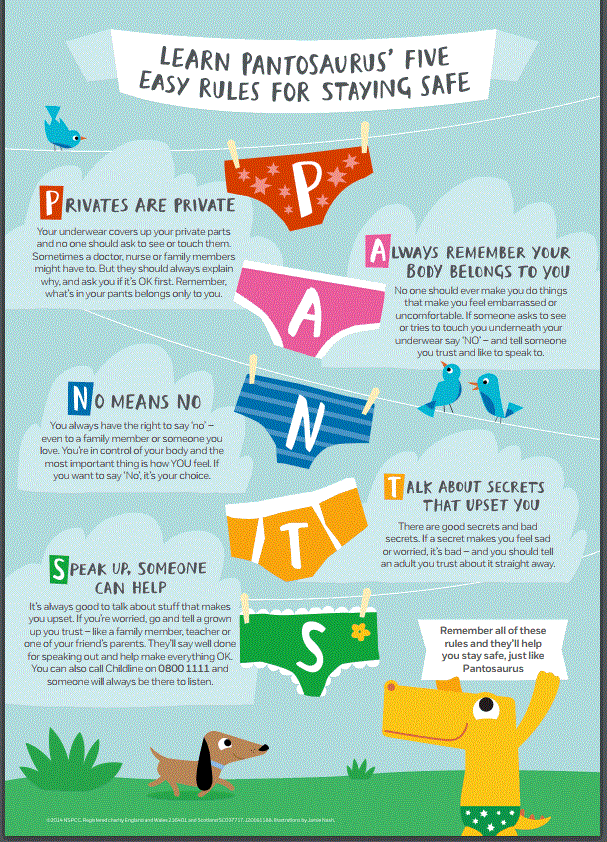 The Playtime with Pantosaurus app is available on iOS and Android devices as a free download and features four mini games where players test their skills against Pantosaurus the dinosaur and his friends whilst learning the PANTS rule to keep themselves safe.
Children can select from three characters that each challenge Pantosaurus on the basketball court or in the diving pool to earn points and win prizes. Each of the playable characters is customisable with their own outfits and styles, with further accessories and outfits available to unlock as children progress through the game.
In between each level children are quizzed on the PANTS rule to help reinforce their understanding of how to stay safe from sexual abuse.
Research by the NSPCC has revealed that as many as one in every 20 school children will suffer some form of sexual abuse while Police Scotland recorded a total of 4,368 sexual offences against children in 2015-16, a 7% rise on the previous year.
The campaign is being backed by The Mummy Diaries star Sam Faiers. She said: "As a mum to two young children nothing is more important to me than keeping them safe. By talking PANTS regularly with my children as they grow, I'm confident they can keep safe from abuse and that they would talk to me about anything that's upsetting them."
Peter Wanless, chief executive of the NSPCC, said: "Most parents now recognise that they need to speak to their young children about the dangers they may face from sexual abuse, both in the online and real world, as they grow up.
"However, the reality of having these conversations can be both daunting and very uncomfortable. That is why the NSPCC has created the Talk PANTS campaign and continues to develop new ways for Pantosaurus to help young children learn how to stay safe from sexual abuse."
The NSPCC Talk PANTS campaign will run on television, On Demand services and social media until 31 January.
TO SUPPORT THIS CAMPAIGN, AND AS PART OF OUR NORMAL HEALTH AND WELLBEING PROGRAMME, THE SCHOOL HAS PURCHASED:
the Pantosaurus Activity Pack and
"My Underpants RULE!
Look at the Underpants Rule website for more information.
These have been added onto the "Useful Links for Parents" on our School Website.
IF YOU'D LIKE TO BORROW ANY RESOURCES TO SUPPORT DISCUSSION WITH YOUR CHILD AT HOME, PLEASE DO JUST ASK.  MR MARKEY & MISS FORBES WILL MAKE THEM AVAILABLE.