Roots of Empathy – our new (youngest!) pupil!
Baby Louisa joined us today as part of our Roots of Empathy project.  As part of the school development this session, Mrs Lemmon from the nursery has been trained in delivering the Roots of Empathy programme.  She and baby Louisa are working together with the P3 class to learn about needs, respect and empathy.  Welcome to the school Louisa, and thank you so much to your mummy for coming along to Hanover Street School.
Thanks must also go to baby Daniel who worked with us for a wee while also.  He was a great wee cutie who the children loved and he definitely helped the children learn about relationships.  Thank you Daniel!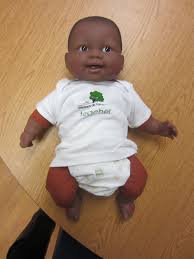 Learn more about Roots of Empathy here:
http://www.rootsofempathy.org/roots-of-empathy/