Jacobites Vs Redcoats: Battle Poses
Primary 5 are exploring their Scotland topic further by learning about the Jacobites.
Today, we looked at a painting by David Morier which illustrated the Battle of Culloden in 1745. We also learned a bit about weapons and fighting tactics from both sides.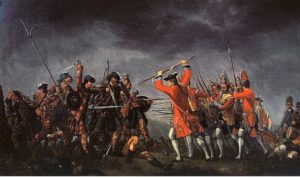 We are going to use this painting as stimulus for an extended art project where we will learn about the importance of proportion and movement when drawing people in action. Today, we used the iPads and an app called You Doodle to capture our own battle poses so we could carefully consider where our joints are and the angles of our limbs. We did this by drawing a simple stick man on top of our photographs.
We will use the work we did today to create our own images and artwork throughout our art project.