Hanover Street Primary launch 2017 Better Energy School Awards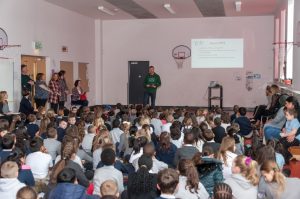 On Tuesday 21st February we were privileged to be chosen to host the launch of this year's Better Energy School Awards (BESA).
The Better Energy School Awards are organised by the Young People's Trust for the Environment (YPTE) and are sponsored by Total.  It invites young people aged 5 to 11 to upload or send in projects showing the environmental learning that is taking place at their school.
Joined by Peter Littlewood, Director of the Young People's Trust for the Environment and representatives from Total, pupils from our P2/3 class proudly presented their project idea for the 2017 Awards to a school assembly.
Our school has achieved great success in the competition having previously won two trips to London as Scottish champions and also several project category award wins, all recognizing the school's efforts and commitment towards learning about the environment.
Peter Littlewood said "It's really exciting to be able to catch up with our friends at Hanover Street primary again and to have the opportunity through the GLOW network to let as many schools in Scotland know about the Better Energy School Awards.
"A huge thanks to the staff and pupils of Hanover Street primary for hosting the Better Energy School Awards launch. Since 2012 Hanover has produced a number of high quality, imaginative and inclusive projects designed to encourage all the pupils to think about caring for the environment. It is great to see this level of interest and engagement particularly among the younger pupils. We hope this sparks the curiosity of other schools to find out more and go on to achieve similar success" added Sandra McLennan, Corporate Social Responsibility Leader, Total.
Well done to Eleanor, Katarina and Michael for their contributions to the GLOW meet, helping make this event such a success.
Have a look at some of the photos on this link below: