Hanover Street School Nursery PEEP Group Coming Soon!
What is 'PEEP?'
Parents as Early Education Partners
Parents as Early Education Partners (PEEP) recognises that parents and carers are children's first and most important educators.
The Peep Learning Together programme supports parents and carers to:
value and build on the home learning environment by making the most of everyday learning opportunities.
build and strengthen attachment relationships with their child through listening, talking, playing, singing and sharing books together.
help babies and children to make the most of their opportunities by becoming confident communicators and active learners, ready for school.
Miss Forbes was trained in PEEP groups in November 2018 and now would like to start a group, for a 5 week block.
Are you interested?
All Peep sessions include songs, stories, play activities and an opportunity to meet other parents/carers to share ideas and experiences.
Look out for the posters in the nursery cloakrooms and notice boards and see Miss Forbes or your Key Worker for more information.
Why should I go?
It helps you continue making a difference to your child's learning and understand.
It will allow you to develop relationships with other parents.
It can even help you gain some qualifications!
Parent/carer qualifications
The PEEP Progression Pathway formally recognises the learning which is already occurring within a PEEP session and at home. Parents/carers can reflect on their child's development, and their role as first educator in a keepsake book which can be treasured as a record of their child's early experiences. If desired, this book can be assessed to gain credits recognised by Scottish Qualifications. Credits can be used as a route to access college courses or employment.
https://www.aberdeencity.gov.uk/services/social-care-and-health/parents-early-education-partners#2237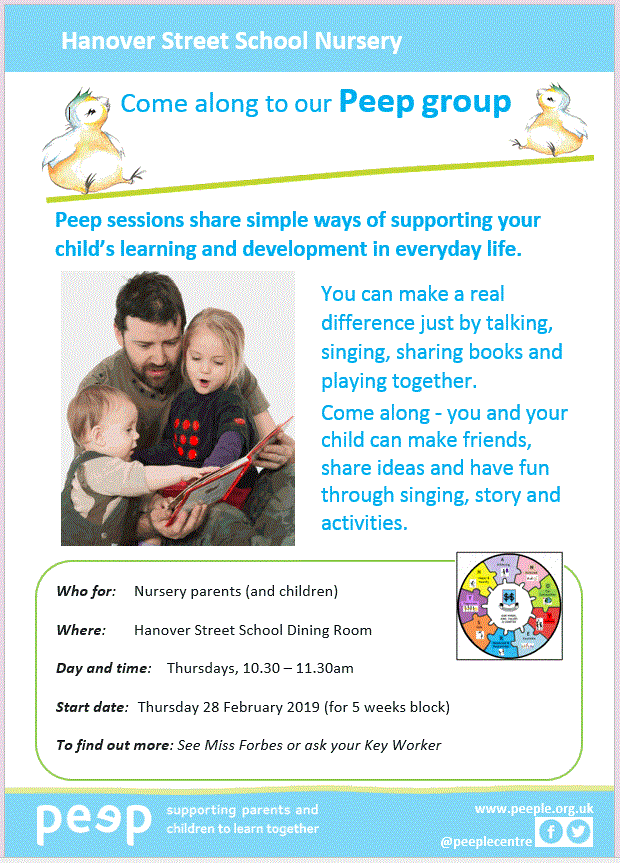 Set featured image